The Details
Flight: DL1575
Aircraft: B757-300
Class: Domestic First
Seat: 5A
Route: Hartsfield-Jackson Atlanta International (ATL)-Orlando International (MCO)
Flight Time: 1hr 5min
Distance: 448miles
Departure: 9:24AM
Arrival: 10:03AM
The Preflight
After arriving in on my flight from Indianapolis, I had a 90 minute layover in Atlanta. Thanks to my AMEX Platinum Card I had access to the Delta Sky Clubs. I made my way to the T concourse where the Sky Club was located on the second level above the main concourse.
Upon walking down the hallway, the bar was on the left side.
Past the bar was the main dining area with an open buffet of breakfast foods.
The seating was arranged in a large open room with great views of the apron. It was less than quarter capacity this early in the morning.
Breakfast foods included self-serve oatmeal, granola bars, cereal, and fig bars.
There was also yoghurt, granola, and overnight oats.
In addition, there were hard-boiled eggs, fruit cups, hummus, and pita chips.
Bakery items included muffins, scones, and bagels.
Hot food options included a breakfast sandwich and granola supergrain bowl.
Drink choices besides the bar included a soda machine and self-serve coffee.
I passed the time enjoying a glass of sparkling wine and plane spotting.
With 10 minutes until boarding, I made my way to the gate area. Our beautiful B757-300 was waiting at the gate. Her registration was N582NW and she had been delivered to Northwest Airlines back in July 2002. After the Delta merger, she was transferred over in October 2009.
N582NW was only one of 55 active B757-300s flying. Delta Air Lines currently operates 16 of these aircraft.
Boarding began at 8:55AM.
We boarded via door 2L and I had the opportunity to turn left into the first class cabin.
The Flight
Delta Air Lines offers 24 First class seats in the cabin between the first and second set of doors. They are arranged in a 2-2 configuration across six rows.
Immediately behind the first-class cabin was a small galley area as well as two lavatories.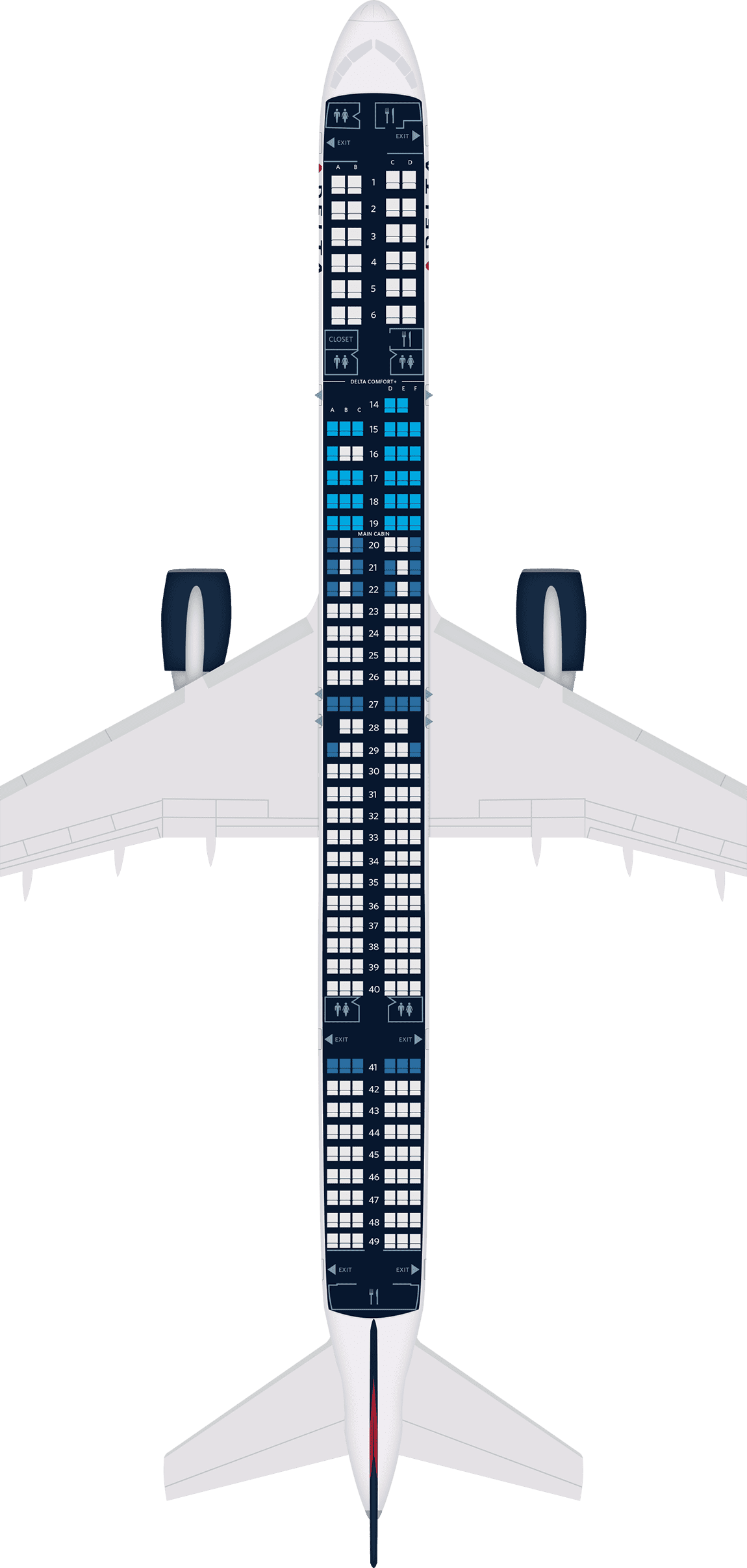 I was seated in 5A. Each first-class offers 37 inches of pitch and has 20.9 inches of width.
There was a seatback entertainment screen as well as ample pockets for storage.
Delta offers my favorite inflight entertainment system out of all US airlines. There was a large selection of movies, TV shows, as well as a comprehensive inflight map, and aircraft information.
The under-seat area was large and not restricted.
In between the two seatbacks was a pair of 110V outlets.
The center console had a small tabletop area. There was also a small cocktail tray that could be pulled out.
The large bifold tray table was stored in the center armrest.
Unfortunately, it was not very stable since it did not reach across to the right armrest.
The recline button was located in the right armrest.
Upon boarding, each passenger was given a small sanitizing wipe by the friendly flight attendants.
Once most first-class passengers were seated, flight attendants came through with small bottles of water.
The captain of our flight also came out of the cockpit to give a small thank you to all of the passengers in first-class today for flying. He also provided us the flying time and what the weather was going to be like in Orlando.
We pushed back at 9:24AM and had a quick six-minute taxi to runway 9L.
Twenty minutes after take-off, flight attendants came through the cabin with a snack basket. Choices included either Biscoff or almonds.
There was also a drink service and I ordered a Bloody Mary which came pre-poured.
Just 10 minutes later we were beginning our initial descent into the Orlando area.
As we neared Orlando, I went to use the forward lavatory.
It was very basic.
We had a great view of MCO on our approach into runway 18R.
We landed at 10:37AM and had a brief 10-minute taxi to the gate. Deplaning was done via door 2L and the flight attendant did hold the economy passengers to allow all first-class passengers to deplane first.
Thanks for the ride!
This was a perfectly average flight aboard one of my favorite aircraft. I love the B757 series aircraft and will always look forward to a flight aboard this aircraft type. However, the Delta Air Lines inflight service during COVID-19 on short domestic hops still leaves a lot to be desired.
Since I had some extra time on my hands, I decided to check out the Delta Sky Club at MCO. It was located on the second floor above the concourse.
To the left of the main entrance were the bar and buffet area.
The rest of the lounge had multiple seating areas with individual couches and tables.
I used the self-serve coffee machine to make myself an Americano.
Food options included a variety of fresh cold food including wraps, sandwiches, salads, and fruit.
Other snacks included chips, crackers, nuts, and more fruit.
Sweats included cookies, brownies, rice crispies, goldfish cookies, and bars.
There was also self-serve iced tea, lemonade, and water available.
This was an excellent lounge at an outstation that Delta had at Orlando. The Sky Clubs remain my favorite domestic lounges that are offered by major carriers (United Clubs or Admirals Clubs).